Find a Private Football Coach in East Sussex
Verified. Qualified. Experienced.
Bespoke personal football training is the secret to improved skills and confidence. Coachability now makes private football coaching & small group training in East Sussex affordable and convenient for athletes of all ages and skill levels.
Private Football Coaching Near Me

in East Sussex

Qualified, experienced & verified private football coaches available in areas including Brighton, Lewes & Uckfield to deliver personal training for football and small group sessions to players of all ages and abilities.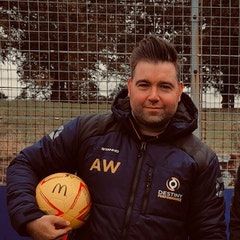 ANDY W
UEFA B Coach
How Do I find a Personal Football Trainer Near Me?
How Coachability Works
01. SEARCH
Enter your location (i.e Brighton) and browse through all coach profiles. You can sort the results by price, reviews and gender to identify the coach that best fits your needs.
02. BOOK
From the coach's profile, click the "Message Coach" button if you have additional questions for the coach, or click the "Book Now" button if you are ready to start training. After you book your coach, you'll receive each other's contact information; call or email your coach to set up your first training session.
03. TRAIN
Now you're ready to improve your game! With every session, you'll improve your game, learn new skills and gain confidence. Receive actionable feedback from your 121 football coach to work on between training sessions. Remember, you're in good hands with our dedicated customer support team.
Players & Parents Reviews for Personal Training for Football
Simply put, Coachability coaching works. Every day, in East Sussex Coachability players are learning new skills, fine tuning their games, and building their confidence on the pitch. They are well on their way to the next level, and the one after that. And they feel great! But don't take our word for it. Check out what parents and athletes are saying:
Andy is a great guy and has been a great coach for me! He's been a strong and positive influence towards my progression and improvement as a player. I'm a beginner to the sport, so our sessions have given me clarity on the work ethic and training routines required to meet pro standards, a tonne of pro level training exercises and a pro mentality towards training and fitness. Having someone that with that level of experience holding me accountable is extremely useful. Would 100% recommend Andy as a coach to anyone wishing to take their skill and knowledge as a player to the next level. Aidan H, Adult Footballer, Sussex
A Personal Football Coach For All Ages & Abilities
Coachability is the easiest, safest & most affordable way to connect with an experienced football coach for private football training sessions in West Sussex who can help improve your athletic performance and reach your individual goals.
Do You Provide Football Classes Near Me?
There is currently one coach who provide football classes in East Sussex, Andy who serves East and West Sussex. Andy has lots of experience providing football classes for kids including 6 & 7 year olds.
What is the best way to book private football lessons near me?
The best way to book football lessons is to contact the specific coach via their profile page. You can message them directly or place a booking request. Before contacting the coach take a look around their profile to view their availability, pricing, reviews and training locations.
Do you provide football lessons for adults near me?
Yes, Andy provides 1 to 1 football training to lots of adults on a weekly basis. This includes beginners, grassroots, recreational and elite players. Andy also provide football lessons tailored towards adults looking for a fun way to keep fit.
Have a question? Looking for some advice?
Contact our support team
Email: [email protected]
Phone, Text, Whatsapp: 07904956437